81 views
| | |
| --- | --- |
| Genre | Disco, 80s, dance, pop, gay |
There is more than one artist with the name Divine. 1.) was an American actor and singer, 2.) is an Indonesian metal band. 3) Is a Czech nu-metal band from Prague 4) an american R&B girl group who scored a #1 hit with Lately, 5.) Vivian Fernandes, better known by his stage name Divine, is a rapper from Mumbai, India.
1. Harris Glenn Milstead (October 19, 1945 – March 7, 1988) was better known by his drag persona Divine. He starred in a number of films: Pink Flamingos, Female Trouble, Polyester, Hairspray, Lust in the Dust, Trouble in Mind and Out of the Dark.
In the 1980s, he scored several hit records in America, Europe, and Australia. The typical progressive type of synthesizer disco music, known as Hi-NRG was composed, created, performed and produced by New York based Bobby Orlando. In Britain, his Stock Aitken Waterman produced You Think You're A Man was his most successful hit, reaching #16.
In 1988, he was supposed to portray the dual character of Peggy Bundy's Mother and Uncle Otto on the TV series 'Married With Children'. He died unexpectedly the day before filming, aged 42, from sleep apnea in Los Angeles, (attributed to his obesity). He was buried in Towson, Maryland, his funeral procession being attended by thousands of well-wishers. His music continues to be popular within the Dance music world.
2. Divine is a Indonesian trash metal band.
http://www.last.fm/music/D+I+V+I+N+E
Divine was formed by Ucokkk in January 2001 in Jakarta and the name 'Divine' was originalty taken from Korn's song. Divine's first line-up consisted of Ucokkk, Bimi, Ino and Jimy.
In the middle of 2004, Divine contributed to the Strip Hitam compilation (Appreciation for The Fight of HAM Indonesia) one song called "Jangan Tindas, Jangan Bungkam" with the first singer Jimy, Divine perform on that compilation. After a while Jimy quit from the band and new singer Indra step in on October 2005 and in the same month..again Divine contributing on Revolution Of Sounds compilation (ZR with Sony BMG) with their song called "Humanorphia". With this new line up, Divine released RELEVASI (EP) with an enhanced CD, but only on distros and Aksara store sold them in Jakarta.
PRESENT:
On April 2007 with the latest line up: Ucokkk on guitar, Indra on vocal, Ino on drum, Ben on bass, their starting to wrote new material for their debut album, and they change their style in music from groove metal in to thrash metal. In the early July 2007, Divine start to recording the new material untill May 2008, and working with Kejam Records Divine released their debut album called Anger Thy Giveth on August 2008 across the nation in Indonesia, with 12 tracks of thrash metal songs!!
3.
Divine
is a Nu-metal band from Prague.
Divine was founded at January 2008 in Prague.Divine had a fast start and became famous in Prague clubs. Around march 2010 the Divine broke into pieces and gave up producing the music. Luckily after a year of silence they managed to get together again and now they are preparing for brighter tommorows.
Divine's
lates formation consist of
Mahdies
,
Sheywee
and
Pavel Martinek
.
More info can be found on czech Bandzone server.
4. Divine was an American R&B girl group formed in 1996 who are best known for their 1998 US #1 hit single "Lately". Group members include Kia Thornton, Nikki Bratcher and Tonia Tash. All three women were teenagers when they were recruited by Pendulum Records owner Ruben Rodriguez to form Divine who were ultimately released on his label Red Ant Entertainment.
5. DIVINE (rapper)
Vivian Fernandes, better known by his stage name Divine, is a rapper from Mumbai, India. He began his career as an underground rapper in 2011 and gained popularity after his single 'Yeh Mera Bombay'. He obtained mainstream success following his collaboration with Naezy, another Mumbai-based rapper, on the song 'Mere Gully Main', along with his solo single 'Jungli Sher' and the electronic music collaboration with Nucleya a successful Indian DJ, the track is called 'scene kya hai'.
Source
Top Tracks
1
Shoot Your Shot
2
You Think You're a Man
3
Shake It Up
4
Love Reaction
5
Lately
6
Native Love
7
I'm So Beautiful
8
Native Love (Step By Step)
9
Jungle Jezebel
10
Alphabet Rap
Top Albums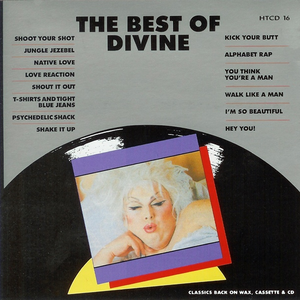 Best of Divine, The
tracks
The Cream of Divine
tracks